Poll

Loading ...
Upcoming Events
Civic Awards Presentation
May 9 at 3:00 p.m.
AP Testing
May 6-17
Inside The Talon
Miss the latest issue of The Talon?
Grab the print issues online here
The girls basketball team played a heart-pumping game against Fremont High School yesterday, January 23.
But, life as a crime syndicate has strings attached; ending one's job contract (also known as "closing the loop") requires loopers to kill the future version of themselves. The concept of futuristic organized crime and time travel are definitely treats for sci-fi thriller fans. But the real thriller–the real thing that makes viewers' minds spin with anticipation–is the series of unexpected turns and the hint of uncertainty of the future that are conveyed in the looper lifestyle and the movie itself.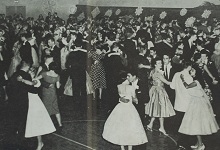 A vast sea of floats, all distinguished and beautiful in their own ways, paraded through downtown of Los Altos. Lines and lines of people stood from the sidewalk, cheering as the floats and multiple cars rolled down the streets, including a convertible holding the king and queen. This was the homecoming parade during the 1980s. Every year, ever since Los Altos High had opened, homecoming has always been a celebrated tradition. However, as the years have gone by, many things about homecoming have changed, one of the most significant changes being the amount of floats in the parades.