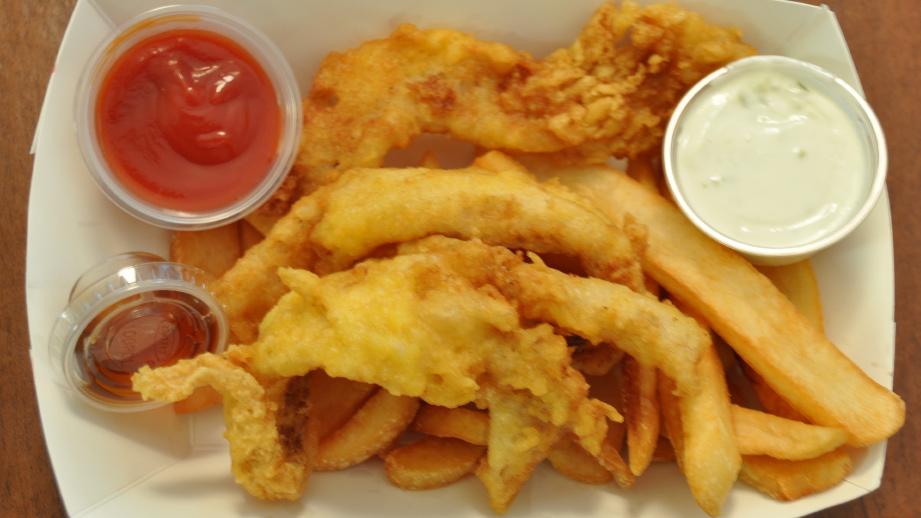 Fish and chips
are served at Chris's Fish and Chips of Los Altos and El Monte Fish and Chips of Mountain View.
The Classic: Chris's
For those who don't know, fish and chips shops tend to have their own custom made "music" playing in the background. And as soon as you walk into Chris's Fish and Chips, you can hear it: the crunching sounds coming from all the seafood delicacies frying in oil.
Chris's Fish and Chips, located on First Street in downtown Los Altos, has been in the area for quite a while. The strong aroma in the shop makes it pretty obvious that everything on the menu is fried and contains fish.
Although their menu varies from fried mushrooms to prawns, the shop is most well-known for its fish and chips.
The fish pieces are a good size—not too big, not too small. Although the fish is deep-fried, it's crispy and juicy instead of greasy. As for the "chips," the fries are cut steak-style. Although people may think that the fries will be soggy and greasy, these steak fries are crispy and have a curly-fries taste. Ketchup, tartar sauce and malt vinegar come with the fish and chips, and they add a nice tangy flavor to the dish.
There aren't many tables and chairs available but the cleanliness of the place and the unappealing take-out option (everything is just put into a brown paper bag) encourage customers to grab a seat and eat there. The overall environment of Chris's Fish and Chips is very clean and the owner's friendliness is definitely a plus.
The New: El Monte
There are not too many local fish and chips restaurants, but El Monte Fish & Chips opened Thursday, April 1, allowing locals to see how it matches up to Chris's Fish and Chips.
This shop is located behind the shopping complex with Boston Market and Pizza My Heart, on El Camino Real.
The menu offers a variety of selections for seafood and side dishes such as "vegekabob." But of course like Chris's, El Monte Fish & Chips specialize in their fish and chips dish.
Its fish pieces are thicker and a bit larger than those from Chris's, so they are definitely more filling at a price similar to Chris's. Even though the fish is just as crispy and juicy as Chris's, they not as tasty and well-seasoned. The fries are dry, not steak-style and lack crispiness.
But the variety of sauces at El Monte Fish & Chips definitely bests Chris's, since its fish and chips are served in an any-way-you-like-it sort of way. Choices of sauces for the fish include tartar, ketchup and cocktail. In true custom of the authentic style of eating fish and chips, there is vinegar and salt provided at the table.
The shop is very clean and much more spacious than Chris's. Also, the owners are extremely friendly and very enthusiastic about opening up the new shop.
Final Word
Although El Monte Fish & Chips may not beat the taste that Chris's Fish and Chips has established, its cheaper price range (starting at $5) and more appealing atmosphere will definitely draw in customers.
Both these local fish and chips shops provide a clean and welcoming atmosphere, but it truly comes down to the food in the long run. At Chris's Fish and Chips the signature fish and chips dish is definitely more classic, whether it be the several years of work put into establishing their dish or just the juicy and crispy qualities of the fish and fries.
Although Chris's Fish and Chips gets the better end of the fishstick in terms of tastiness, both restaurants have the right gear to make this a fair fight for the throne of local seafood dishes.