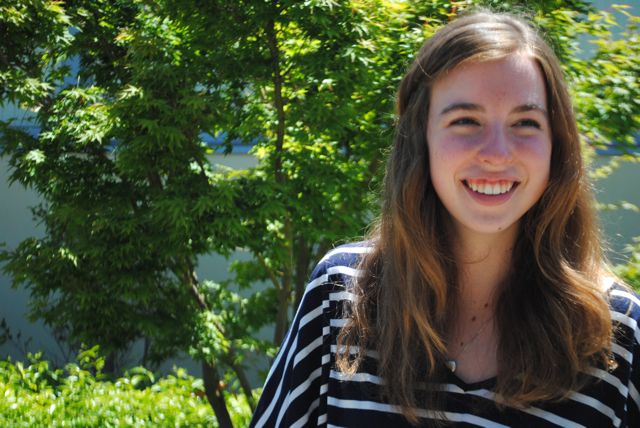 [photo by Mya Ballin]
Senior Rachel Grate was working on her senior project one night when it hit her that the end of high school was fast approaching.
Nostalgic and inspired by this realization, Rachel decided she wanted to do a speech at graduation. She immediately began writing.
Rachel expresses her passion of writing by starting the Eaglit Book Club her sophomore year and serving as an editor for Yearbook and as a staff writer for the Talon.
In addition to her pursuit of literature, Rachel is also a member of Girls for a Change and participates in cross country and track.
Rachel's greatest influences during high school, in addition to her friends and family, were her English teachers.
Rachel's English teachers have helped her through some of her toughest moments, and also helped Rachel discover what she was passionate about and what she wanted to do in life.
"I knew I could, and still can, always go to Ms. Herrera or Ms. Robertson for advice or help or just a sympathetic ear and comfy couch," Rachel said.
Rachel's speech is about memories and taking chances.
"The general idea is that you should never be afraid to take a chance," Rachel said. "Even if it fails really badly eventually it'll just become a memory with a life lesson or a funny story."
After graduation, Rachel plans on tackling her high school bucket list and finding a job. She will be studying at Scripps College with a major in English and a possible minor in Occupational Studies or Gender Studies.
[This bio was written by Caleb An for The Talon's senior magazine.]
We've all sat through cliched high school movies and found ourselves comparing them to our own high school experience.
We all know what it feels like to shudder at the memory of this experience when recalling our past behavior- likely from our awkward phase freshman year.
And at some future reunion we'll still remember the details that made our high school experience our own: the classroom where the air conditioning was always set too high, or the football game where we finally beat Mountain View, or your freshman year crush.
In a moment, graduation will join those memories.
We will have our own versions of our parent's reminiscent ramblings, my mom's story of her Homecoming date's mom picking them up in a station wagon with a flashlight taped to the antenna and my dad who spent his summers lifeguarding.
We will someday be the ones telling the next generation our stories— stories of asking the proctor for a tissue in the Modern European History AP test and receiving an entire roll of toilet paper, or about the boy who asked you out over this new website called Facebook.
And as we move to the next stage in our lives, I hope none of us let the fear of failure (or of turning into our parents) stop us from stepping forward to create new memories.
After all, embarrassment is nothing but the beginning of a funny story.
We all had preconceptions of what high school would be like before we arrived at LAHS—some from our parents, but mine mainly derived from repeated viewing of The Princess Diaries.
Most of my expectations of high school were proved false within the first month- no bullies teasing me about bad hair days, no obnoxious cheerleaders hogging all the hot guys, no teachers out to get me- but there's one expectation that had to wait a little longer to be broken: The happy ending.
High school wasn't a perfect experience for any of us. Together we've had a multitude of broken bones, even more broken hearts, and a few broken dreams.
But none of us should let the lack of a perfect "happy ending" bring us down, because this- graduation- is not the end. It's the beginning.
The Princess Diaries had one more lesson that stuck with me. "The brave may not live for long, but the cowardly do not live at all."
Because throughout all the disappointments, no chance I've taken in high school, no matter how far gone awry, has caused more damage than time could heal.
Because the thing about time is that even the most painful moments turn into funny memories and life lessons.
So as we move to different corners of the country to create new memories, may we never forget the memories we've made here, the memory of this instant, in these paper thin graduation gowns with tassels blowing in our faces and the sun struggling to make an appearance.
May we never forget not just what we learned in LAHS classrooms but what we learned hanging out downtown next to Walgreens before we could drive, what we learned during late nights bent over procrastinated Spanish projects, and what we learned through each other's laughter and tears.
So may we bravely go forth to make memories of tomorrow while never letting the future, in its spectrum of mysterious shades, fade the memories we've made here, together.